Posted by Mr. Marin on Jun 11th 2020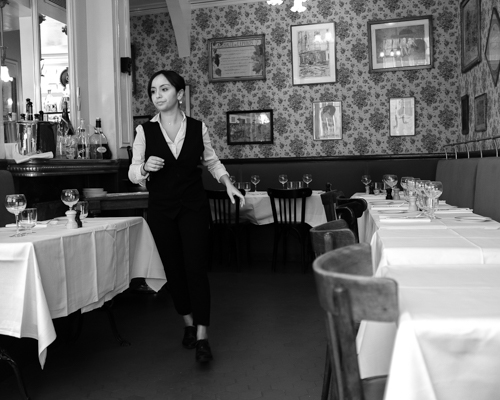 Few countries offer the variety and excitement of the promise of a fine meal like France; and if France is the center of the culinary universe, then Paris is its epicenter. Cafes dot nearly every corner, humble bistros along with a cosmology of Michelin star eateries can overwhelm. Making the smart choice however is not that hard: it's not just a matter of a good meal. You will get a good meal. It is a matter of a great meal however, and when we are lucky maybe even a great value on top. Great values are of course, relative; in this installment, perhaps even arguable. We suggest that for the quality, ambiance and professionalism of staff, Allard is an extraordinary meal, superior service, perfect ambiance and is a good value for your hard earned dollar. In the future, we will explore absolute great deals in cuisine. For now, let us shed light on one place where we drop into every Sunday afternoon when we are in Paris searching for treasures.
A handful of chefs in the world dominate high-end cuisine. Alain Ducasse is such a chef and his name is attached to dozens of establishments around the globe. Ducasse is a legend around the world, and in Paris: he is a god. In 2012, he held 21 Michelin stars making him second only to the late Joel Robuchon. He has more than 10 restaurants, bistros and Cafes in Paris alone and dozens around the world. And for Mr. Marin, none speak more to traditional bistro fare than Allard in the 6th Arrondissement of Paris...the Latin Quarter and hub of Parisian Bohemia.
Located in the heart of Saint-Germain-des-Prés, on Rue Saint Andre des Art, it remains one of the last authentic French gourmet bistros. Today still, the establishment is filled with the spirit of Marthe Allard, [mother cook] who founded the restaurant in 1932. Allard is above all the story of a peasant from the Burgundy region who traveled up to Paris carrying her sincere and generous family recipes. True to from, chef Ducasse left the menu untouched and delightfully seasonal. Below is a sampling of our recent favorites. However, we do not insist that they are alone! Hardly anything on the menu does not deserve careful consideration and one would do well to take their time and linger before making final selections. For now, Allard is in the top 5 destinations for gastronomy in the City of Light. Below are three suggestions from tight, but well edited menu. Everything on that menu is worth a mention, these are the standouts.
Salade avec Lardon - (Curled endive, pork belly and croutons). The dressing defies comparison...it's light on the palate, clean and supple. There's just enough of it to taste but get out of the way of the more important flavors of the pork and delicate endive. This salad is traditional in bistro cuisine, but the treatment here is done so well, and the lardon (pork) so generous, it has no rivals that we know.
Sole a la Meuniere - (Dover Sole in Butter Sauce) This remarkably delicate and buttery fish is meant to be shared. It comes on the bone and expertly boned at your table. Paired with a crisp white wine? Yes please and thank you. Don't swallow to soon or you'll regret that it was over much too quickly.
Isle Flotant - (Floating Island) for dessert is a bistro classic and Allard is the gold standard. Incredibly delicate poached, sweet, whipped egg whites floating atop a silky creme Anglaise dotted with bits of exotic vanilla bean. All topped with sliced almonds and a drizzle of caramel sauce. Yum. Of course, like the other dishes mentioned above, there are other options on the menu albeit limited.
The menu at Allard is concise, precise and no nonsense. It's traditional so do not expect anything foaming, live or petite on your plate. This is all good, stick to the ribs bistro food. The sides are varied and generous as is the tight wine selection. The Baba au Rum is an excellent option for dessert and the Roast Duckling for Two an alternative to the fish. Be fearless and you will be rewarded. Your wallet will take a good licking too...this bistro is not for the faint of heart. We prefer lunch here as opposed to dinner, and a full lunch for two, with modest wine and all three courses will set you back about $250 to $300 (tip included)...and worth every penny. You're in Paris, make it fun!
For Information and Reservations: https://restaurant-allard.fr/en